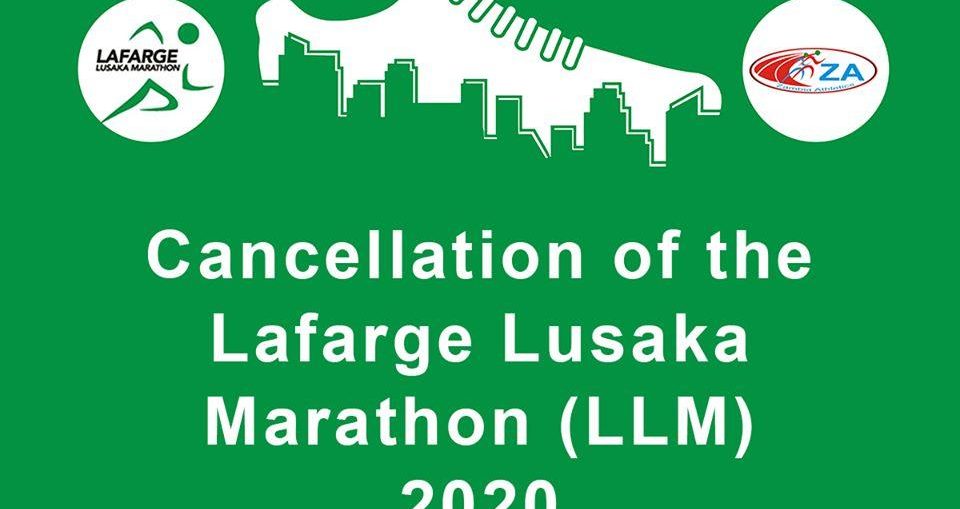 (Lusaka, June 2nd 2020), The Lafarge Lusaka Marathon (LLM) Management has reviewed the trend and guidance of health experts and the provisions of SI 21 & 22 of 2020 on Covid- 19, which is now a world pandemic and resolved to cancel the LLM 2020 which was schedule for September, 26th 2020, and focus on preparation for 2021.
At Lafarge Zambia, health and safety is our core value thus, the safety of our nation, participants and Partners is of paramount importance to us. That is why management reached at this difficult decision to cancel the 7th edition of the marathon this year.
This decision was made following the guidance of the Ministry of Health and the World Health Organization on the status of Covid-19, which is expected to be with us for the foreseeable future, as we embrace social distancing and masking up coined as the "new normal".
However, all the LLM participants are urged to continue training and keep fit in the new normal as we prepare for the 2021 edition. We have hope and believe that this will pass and we will be able to cement our fitness together next year.
All registered and paid up participants can either push their registration fee to next year or request a refund by contacting the project office at [email protected] or call 0211 250153 or 0966 330516 or 0977 330 516
We sincerely apologize for any inconvenience this may cause and we look forward to building lives together on April 24, 2021.
Jimmy J Khan                                                   Elias Mpondela
Chief Executive Officer                                   President